About the Polymyalgia Rheumatica Working Group
Polymyalgia rheumatica (PMR) is an inflammatory disease characterized by subacute onset pain and stiffness in the shoulders and hips. Oral glucocorticoids represent the mainstay of treatment and while cessation of therapy is the ultimate goal, up to 50% of patients with PMR continue to require prednisolone 2–3 years after diagnosis.
In 2016, the Outcome Measures in Rheumatology (OMERACT) endorsed a core domain set for PMR. The inner core of the "onion," signifying items to be measured in all PMR clinical trials, consisted of 4 domains: pain, stiffness, physical function, and systemic inflammation.
Catherine Hill
Sarah Mackie
Claire Owen
Lee Simon
OMERACT Endorsed Core Domain Set for Polymyalgia Rheumatica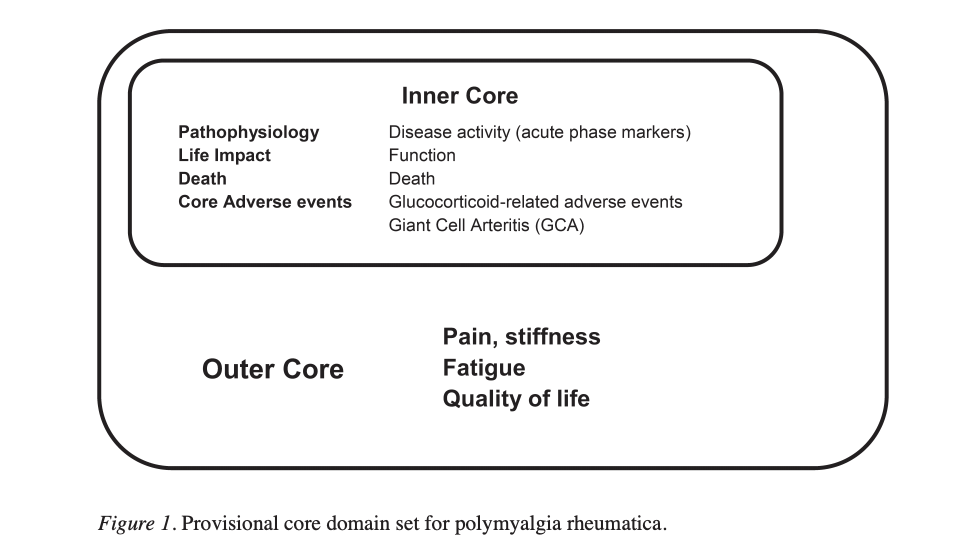 Rachel Black
Maarten Boers
Elizabeth Brouwer
Frank Buttgereit
Ricardo Jorge de Oliviera Ferreira
Cátia Duarte
Susan Goodman
Serena Halls
Eileen Harrison
Toby Helliwell
Catherine Hill
Rodney Hughes
Tanaz Kermani
John Kirwan
Jessica Leung
Christian Mallen
Sarah Mackie
Eric Matteson
Peter Merkel
Chetan Muktyar
Lorna Neill
Claire Owen
Colin Pease
José António Pereira da Silva
Lee Simon
Bev Shea
Helen Twohig
Peter Tugwell
Max Yates
Interested in joining the working group as a member?