OMERACT is a global, volunteer-driven, not for profit organisation committed to improving outcomes for patients with autoimmune and musculoskeletal diseases through advancing the design and quality of clinical studies.
Through rigorous methodology and our global Working Groups, OMERACT supports the development of Core Outcome Sets (COS), identifying patient and disease-relevant areas to be measured (domains) and the corresponding measurement instruments for use in clinical trials, including those for regulatory approval of new treatments.
The first conference on rheumatoid arthritis was held in Maastricht, the Netherlands in 1992. The motivation for this were discussions between Maarten Boers & Peter Tugwell, comparing the outcomes used in European clinical trials of rheumatoid arthritis with that of North American clinical trials, and noting that they used different endpoints. This made it extremely difficult to compare and combine in meta-analyses. One of the authors had had a good experience with the nominal group technique to build consensus on some controversial issues around developing a patient preference health status measure and thus suggested using this to develop agreement on a core set of outcomes for RA Clinical Trials.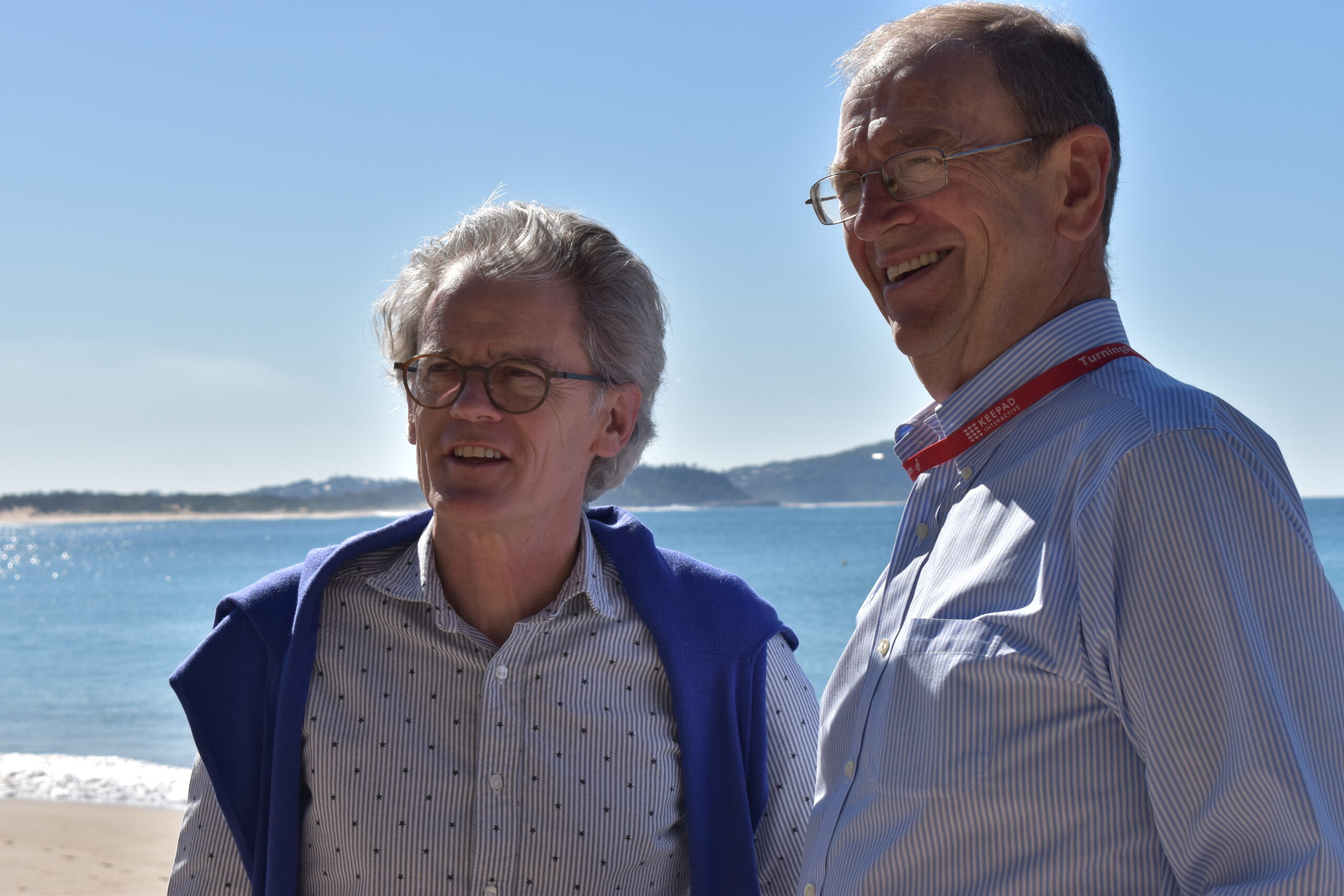 The first OMERACT Conference Attendees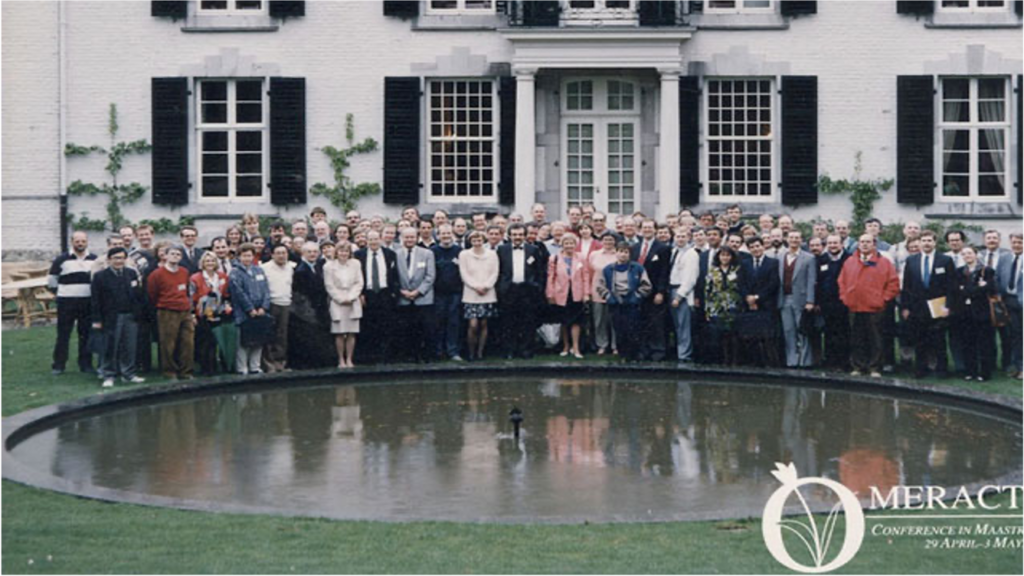 M Akizuki, Japan
G Alarcon, United States
E Allander, Sweden
J Anderson, United States
P Baker, Canada
P Becker, United Kingdom
K Bennett, Canada
J Bijlsma, Netherlands
I Blaauw, Netherlands
L Blumenbach, Germany
M Boers, Netherlands*
C Bombardier, Canada
M Bosi Ferraz, Brazil
A Broekmans, Netherlands
B Burlington, United States
G Butler, Switzerland
G Campion, Germany
H Capell, United Kingdom
M Cardiel, Mexico
A Carr, United Kingdom
P Dawes, United Kingdom
B Dijkmans, Netherlands
H Dinant, Netherlands
M Dougados, France
S Duff, Canada
J Edmonds, Australia
G Ehrlich, United States
D Felson, United States*
B Fried, United States
J Fries, United States
D Furst, United States*
CH Goldsmith, Canada*
A Gueguen, France
P Hannonen, Finland
J Harter, United States
M Homma, Japan
K Horslev, Denmark
H Isomaki, Finland
R Juhlin, Sweden
N Khaltaev, Switzerland
J Kirwan, United Kingdom
P Kurki, Finland
T Kvien, Norway
M Lassere, Australia*
P Leffers, Netherlands
E Lemmel, Germany
M Liang, United States
D Lovell, United States
L March, Australia*
K Muirden, Australia
J Nakache, France
I Olivieri, Italy
H Paulus, United States
T Penders, Netherlands
S Pillemer, United States
T Pincus, United States
H Rasker, Netherlands
R Rau, Germany
P Riedemann, Chili
R Roberts, Canada
M Sanders, United States
D Scott, United Kingdom
C Scribner, United States
L Sharman, Switzerland
A Silman, United Kingdom
S Simonian, Netherlands
J Smolen, Austria*
V Strand, United States*
D Symmons, United Kingdom
C Taylor, United States
V Tebbs, United Kingdom
P Thompson, United Kingdom
B Tilley, United States
P Tugwell, Canada*
D van der Heijde, Netherlands*
F van der Horst, Netherlands
Sj van der Linen, Netherlands
M van Leeuwen, Netherlands
P van Riel, Netherlands
M van Rijswijk, Netherlands
M van Santen, Netherlands
M van't Hoff, Netherlands
E Veys, Belgium
G Wells, Canada*
J Williams, United States
K Wilske, United States
G Witzmann, Austria
F Wolfe, United States
J Woodcock, United States
T Woodworth, United States*
H Zeidler, Germany
A Zink, Germany
*attendees of the 1st OMERACT meeting who remain active OMERACTers
Thank you to Dr. John Kirwan for working on putting this list together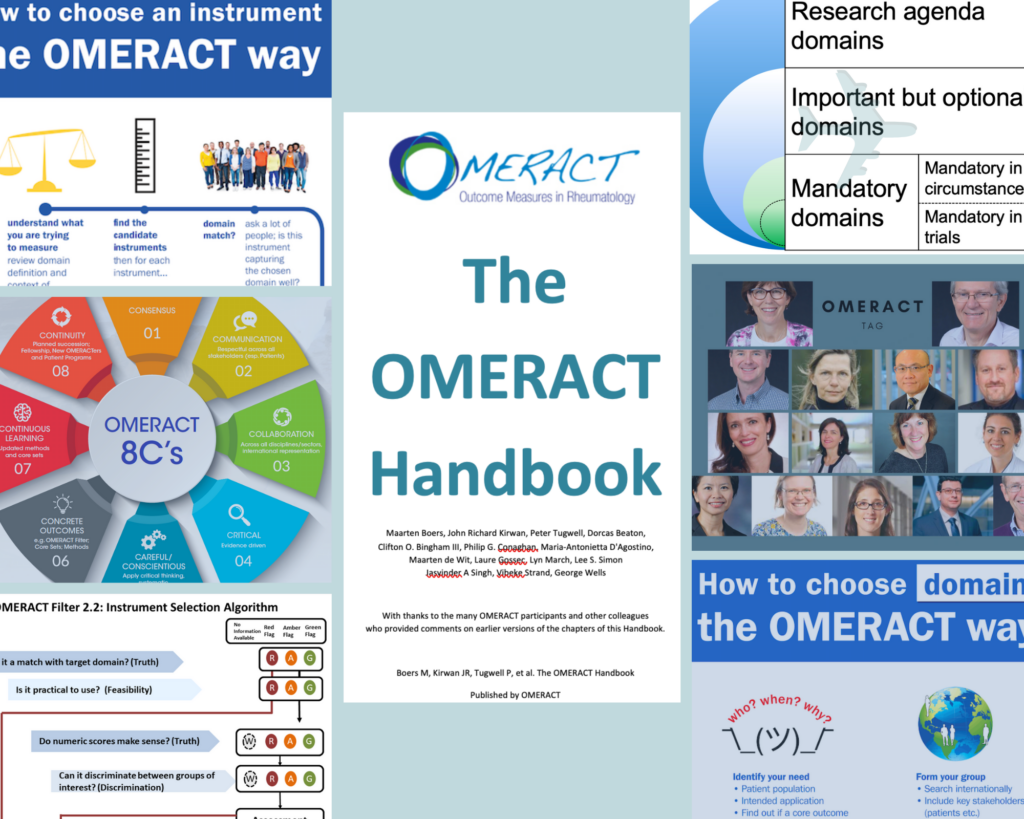 Since the original meeting in 1992 we have been working hard to refine our process for reaching consensus over what should be measured (domains), and how (instruments). In 2012 we released the 1st version of our OMERACT Handbook and since then have published guidance documents, learning modules and the OMERACT Workbooks that help our working groups follow along in a step by step fillable format supported by a Technical Advisory Group.
The hub of OMERACT activity takes place in the Working Groups, defined by a disease, methodology or intervention they are focused on.
OMERACT is led by our Management Team, they work together to make OMERACT successful.
Each member has two hats: that of a member of the management team, and a leader of their sector of OMERACT
Members support and challenge one another.
The team works continuously on strategy, direction and finding ways to best support the work of our Working Groups
In addition to the Management Team OMERACT has 3 paid staff positions (1 Administrator and 2 Senior Methodologists)