OMERACT Technical Advisory Group
OMERACT has developed a more explicit process for determining when an instrument meets the OMERACT Filter of 'Truth', 'Discrimination', and 'Feasibility'. We have created guidance in the form of a Handbook and Domain and Instrument Selection Workbooks to help OMERACT Working Groups move through the Filter 2.1 process.
The OMERACT Technical Advisory Group (TAG) is a specialized committee within OMERACT that provides expertise and guidance in methodology related to Core Outcome Set Development. The TAG consists of relevant stakeholders with specific knowledge and skills in areas such as measurement science, psychometrics, statistical analysis, data management, and technology implementation. Their role is to offer methods advice, review and provide input on measurement methodologies, contribute to the development of OMERACT methodologies, and ensure the use of rigorous and sound technical practices within the OMERACT community. The TAG also plays a crucial role in evaluating submitted Workbooks from OMERACT Working Groups, assessing their alignment with the Master checklist for Domain Development and Instrument Selection. Following this review, the Technical Advisory Group convenes to collectively determine whether the working group adhered to the prescribed processes and assess the justifications provided to support their proposed decisions.
The TAG plays a vital role in ensuring the integrity and quality of outcome measurement in rheumatology, aligning with OMERACT's mission to enhance the assessment of outcomes in rheumatic diseases.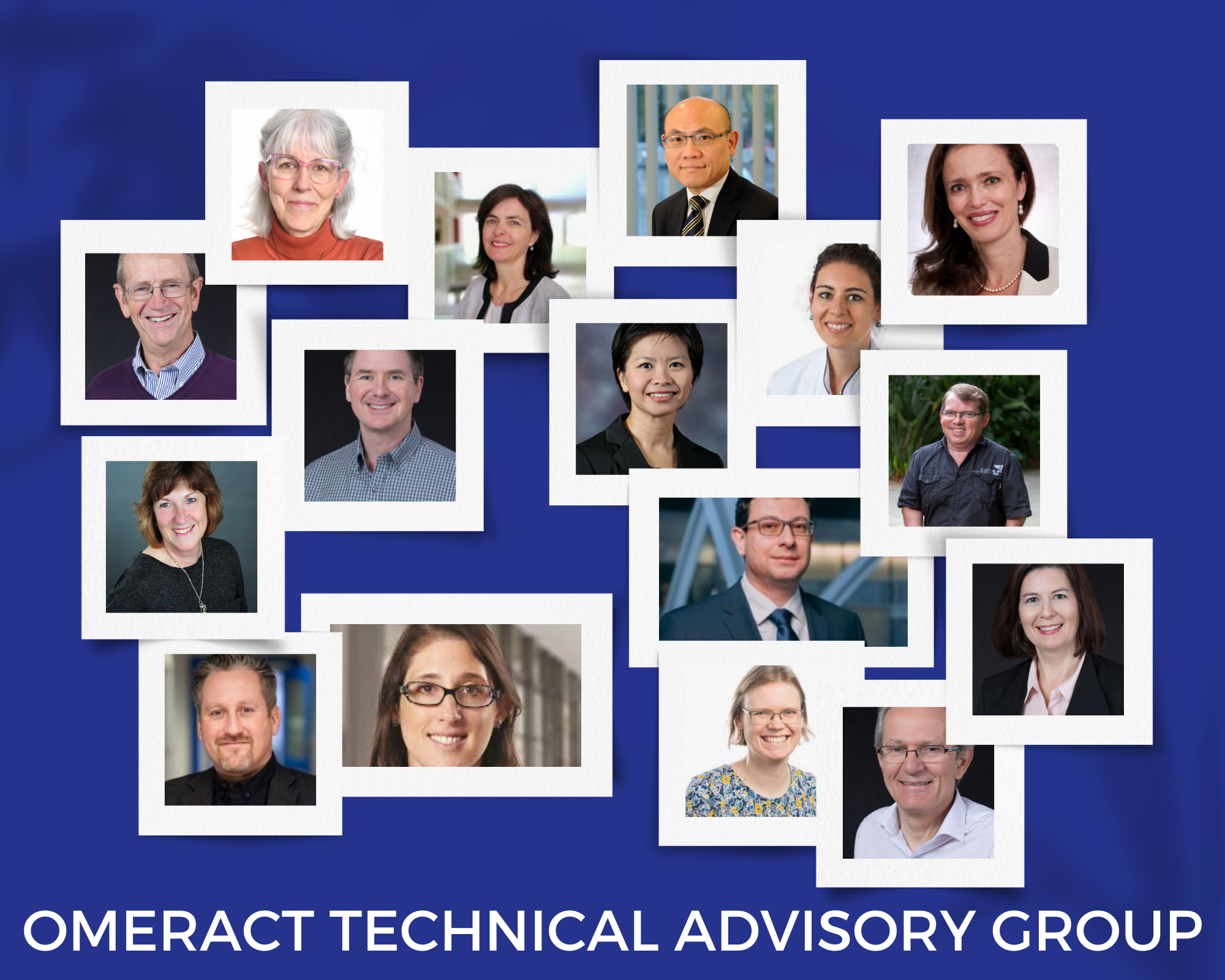 Dorcas Beaton - Co-Chair
Annelies Boonen
Ernest Choy
Robin Christensen
Andrea Doria
Catherine Hill
George Wells - Co-Chair
Cathie Hofstetter
Ben Horgan
Féline Kroon
Katy Leung
Lara Maxwell - Sr. Methods Advisor
Bing Bingham - Co-Chair
Sarah Mackie
Alexa Meara
Zahi Touma
Peter Tugwell