About the Gout Working Group
Gout is the most common form of inflammatory arthritis and is caused by deposition of monosodium urate (MSU) crystals in and around joints, which provokes an intense inflammatory response. Gout manifests as episodes of intense joint pain, swelling, and functional disability that may lead to persistent joint symptoms and structural joint damage. At Outcome Measures in Rheumatology (OMERACT) meetings, joint damage imaging has been endorsed as a discretionary domain for outcome measurement in chronic gout studies. However, no specific imaging instruments have been endorsed by OMERACT for use in gout studies. In the last decade there have been major advances in imaging in gout and so it was appropriate that the OMERACT gout working group focused on imaging modalities as outcome measures for use in chronic gout studies.
Nicola Dalbeth
Jasvinder A. Singh
Will Taylor
ENDORSED DOMAINS FOR ACUTE GOUT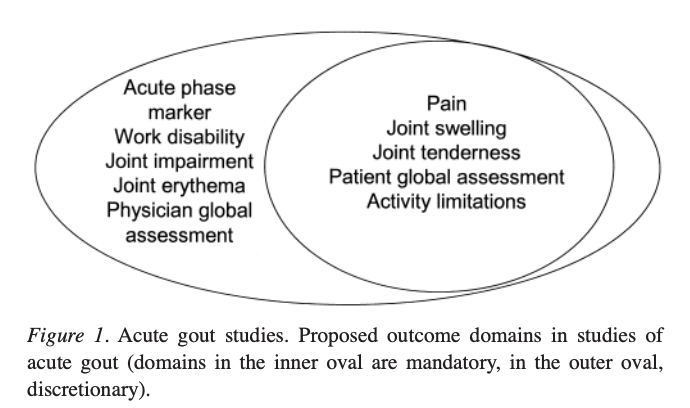 ENDORSED DOMAINS FOR CHRONIC GOUT
Rebecca Grainger
Cesar Diaz-Torne
Nicola Dalbeth
Laura Durcan
N. Lawrence Edwards
Helen Keen
Dinesh Khanna
Fernando Perez-Ruiz
Lee S. Simon
Jasvinder A. Singh
William J. Taylor
Peter Tugwell
Interested in joining the working group as a member?