About the Flares in Osteoarthritis Working Group
Many patients have been suggesting that traditional outcome measures and instruments do not capture all their experiences of living with their OA of the hips and knees, such like intermittent episodes or 'flares' of their disease. There are many other features beyond pain that can occur during these episodes, that have a big impact on their quality of life.
The key aim of the OA Flare Working Group is first, to identify the domains of Hip or Knee OA flare using OMERACT methodology. Second, to follow this with developing a composite measure, incorporating these domains.
Leigh Callahan
Francis Guillemin
Lyn March
Lauren King
Fabiana Queiroga
Flares in Osteoarthritis Whiteboard
Flares in Osteoarthritis Whiteboard
OMERACT Endorsed - Relevant Domains for a Composite Measure of Flare in Osteoarthritis of the Hip and Knee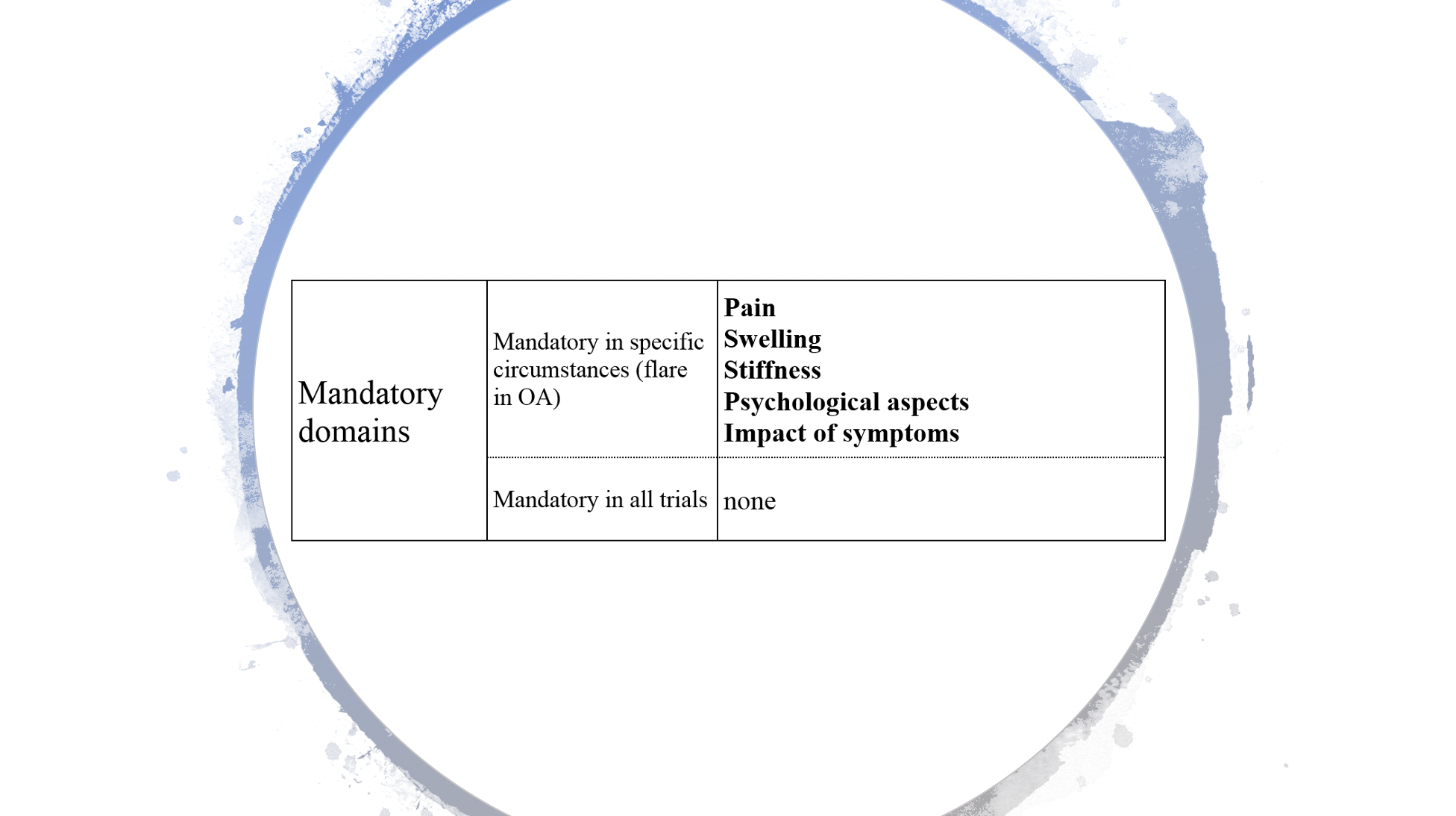 Francis Guillemin
Leigh Callahan
Lyn March
Sam Michel Cembalo
Thomas Buttel
Cindy Copenhaver
Fabiana Queiroga
Lauren King
Jonathan Epstein
David Hunter
Lara Maxwell
Marita Cross
Dorcas Beaton
Leticia Deveza
Elisabeth Spitz
Jean-Francis Maillefert
Peter Tugwell
Gillian Hawker
Claudia Rutherford
Marianna Vitaloni
Josep Verges
Latifa Adarmouch
Majda Sebbani
Radouane Niamane
Melanie Beguinet
Bruno Fautrel
Youssouf Traore
Philip Conaghan
Thomas Martin
Tunçay Duruöz
Hande Gezer
Kim Bennell
Tiffany Gill
Abu Siddiq
Rana Hinman
Win Min Oo
Anita Wluka
A. Jones
Linda Li
Tarimobo Otobo
Karine Toupin-April
Zahi Touma
Jackie Whittaker
Samah Ismail Nasef
Saurab Sharma
Ramakrishnan Mani
Uhunmwangho Courage
Nina Østerås
Boris Blanco
Raouf Hajji
Interested in joining the working group as a member?